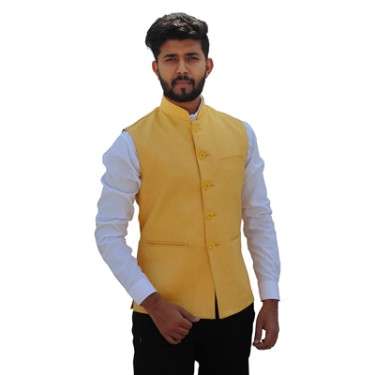 With every fashion garment evolving and changing with respect to time, nehru jackets are back in trend all over again. The transitions and modifications in ethnic wear is a necessity nowadays to meet the requirements of the fluctuating demands of the customers, especially those who are way too particular about dressing.
These days, the ethnic wear like the Nehru Jacket has become trendy with the all new modern switchover. Whether it is a formal occassion or a special gathering, you can wear this stylish Nehru jacket at any event without any double thoughts. However, when it comes to styling these Nehru jackets, then it can be a bit tricky to pull it off in a more stunning and elegant way.
Therefore, we, at Olib Apparels, enlist the best 4 different ways to look more fashionable and embrace the trend of etnic nehru jackets -
Nehru Jackets paired with Shirts -
Nehru jackets are trendy and look absolutely awesome when it is styled with the formal shirts. Nehru jackets are generally a sleeveless outfit and a perfect garb to pair as a layering. Wear the classy Nehru jackets with the formal shirts, roll-up the shirt sleeves and button-up the Nehru jacket. And it's done! To make it more fascinating and appealing, wear it with a pair of denims to make a style statement on any occasion.
Wear designer and crafted Nehru Jackets with Kurta Pajama -
There is totally no denial that the traditional and classic look of the Nehru jackets comes when it is best paired with the Kurta pajama. It gives an all elegant look for sure! The sophisticated and ethnic look of the Kurta pajama can surely be enhanced with the Nehru jacket. While selecting the colour of the Nehru jacket, make sure that it compliments well with the Kurta. To complete the whole look, pair up a stylish watch and leather shoes, which will definitely look trendy and voguish.
Nehru Jackets with Trousers
The most prominent and foremost choice of men is to pair the Nehru jackets with trousers. For some individuals, trouser pants are extremely monotonous whereas for others, it is a fashion statement. If you do not want to pair your Nehru jackets with regular denims, then why not to try pairing these with stylish trousers this time? The slim-fitted, stylish and comfortable trousers certainly enhance the beauty of your attire. Obviously, you can explore the different hues and colour combinations in Nehru jackets to match up with the trouser pants.
Nehru Jackets with Sherwani -
Pair these specially crafted nehru jackets with modern and ethnic sherwanis. Trust us! there will be no fashion blunders. If you have a basic and simple sherwani suit, then get ready to change the whole look of this outfit. Pair your sherwani suits with a stylish Nehru jacket with the embellished buttons in the front. This will add a modern touch to your whole attire! Prep up to flaunt your simple yet stylish outfits without even taking any professional's help.

To conclude, we, at Olib Apparels, offer a myriad of colours and styles available in Nehru jackets. Apart from the comfortability they offer, these Nehru jackets are highly versatile and in the latest fashion trend as well. Therefore, do not miss a chance to purchase these exquisite Nehru jackets for your wardrobe collection.