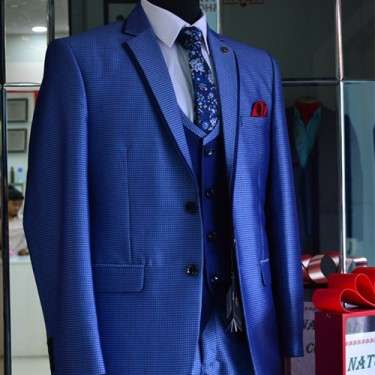 When it comes to men's modern suit styles, designs, and suit types, "one look fits everyone" simply doesn't apply and never will. bodies and personalities of men vary from one another. Different occasions call for different types of suits, and suit trends according to the regularly fluctuating fashion demands. Men's suit styles are the essential demand of present day fashion. We, at Olib apparels, present the basic Guide to types of our Men's Suits, Styles and Details.
Slim Fit Suit
A quality men's slim fit suit is known to trim away the excess fabrics. It gives you a stylish look. This form-fitting men's suit is usually narrow at the chest and waist, but not to the point of constricting blood flow. Though slim fit suits and athletic body build seem like an obvious pairing, the truth is that many different male body types can pull off the slim fit look in the best possible way. The slim fit suit jackets typically provide just enough sleekness down without giving away too much of what is really under there. This is generally considered more of a casual fashion-style suit.
Classic Fit Suit
For those who don't want to overthink the process of adorning a formal suit, our classic fit suit is the way to go! Comfortable to wear and unfettered in design, this popular men's suit type provides breathability and extreme comfort without resorting to a loose or unkempt aesthetic. This classic suit is an easy choice if you want something that's perfect for the office wear, but with a suit jacket that can be put with chinos for a smart casual weekend look.
Modern Fit Suit
If you are dicey about pulling off the slim fit suit well, but want to nevertheless exude a heightened sartorial sensibility, you should by all means consider the modern fit suit. This suit style hovers squarely in the realm between slim fit and classic fit. This style thereby delivers a tight look with breathing room to spare. If you get the material and the accessories right, you can make this work for any occasion. Modern suit styles are made to conquer any outing, from casual to formal.
Single Breasted Suit
Among other types of men's suits, the single breasted suit is the most ubiquitous. A single breasted suit usually exudes a narrower and tighter look. There are firm codes of conduct with buttoning a single breasted suit. When it's a rare three-button suit, the top button is optional, the middle button is always fastened , and the lower button is never fastened. Single-breasted can be great looking suits across varying body types of men.
Double Breasted Suit
In comparison to the single breasted men's suit, this double breasted suit includes additional buttons on either side of the jacket for aesthetic purposesThe focal point drifts from the seam toward the sides to create the illusion of a wider frame, as a result of these extra buttons The modernized suit works well with a variety of colours and most commonly features peak lapels on the jacket. The rules of buttoning a double breasted men's jacket are quite simple: no matter how many buttons there are, always leave the bottom button unfastened and the top button fastened whether sitting or standing.
Unstructured Blazer
The unstructured blazer breaks free from conformity and constraint to deliver a soft, gentle fit and somewhat laid back aesthetic. Often composed of a single layer of material, the unstructured blazer makes for ideal spring or summer time wear because it takes extra doses of weight off the body.
Patch Pocket Blazer
A patch pocket is one that is made from a separate piece of cloth and then sewn onto the outside of your sports jacket or blazer. Like the unstructured blazer, patch pockets are a great way to join casual style with a personal flair of fashion statement. These casual blazers for men provide the perfect complement to an understated yet fashionable autumn or winter outfit.
Find your right pick of men's suits and styles from the plethora of our wide range at Olib Apparels and keep your style statement ever shining!