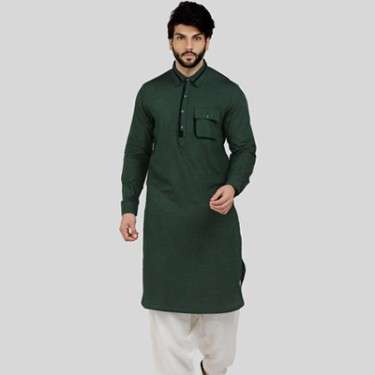 Pathani suits are the traditional Indian wear which are known to exude an inexplicable charm and elegance.. This elegant and sophisticated attire is considered to be an embodiment of tradition and charm. Pathani suits are available in a huge assortment of colors, sizes, styles and designs. Gone are those days when simple suits were worn by men on festivals and occasions. Today the festive occasions call for the affluent coloured designer suits embellished with beautiful works to enhance the appearance of the wearer.
As there are a plethora of such designer wear suits available with us at Olib Apparels, choosing the most appropriate attire can be quite a perplexing task. However, by following a few simple tips, it is easy to find the best suit at affordable price rates though!
Styling guide that could help you choose
Choose perfect Color -
One of the most important aspects to consider before selecting this elegant attire is the color. We offer these pathani suits in a variety of different colors for different occasions. White and black colored suits with elegant embellishments such as golden embroideries are quite appealing to eyes. Whereas modern trendy colors are quite bold and include shades such as maroon, deep red, velvety blue, dark green, orange etc. Pathani suits can be extremely attractive when coupled with the right skin tone. It is therefore quite important to choose colors based on the skin tone of the wearer. These pathani suits with contrasting colors are ideal for men with a tall and broad frame. However, men with a short stature should ideally go for dark colored suits as it will exude a tall appearance.
Select Good Design
Plain pathani suits give an outdated appearance. Whereas Modern ones come with heavy pattern looks and neck work. There is a fair share of embroidery on the whole or around the sleeves. There are even places where you can customize according to your sense of taste. Patterns are believed to give a sensation of attraction and richness to your clothing. Floral designs are the usual lot, try unique design sets near the neckline, or opt for embossed patterns on your pathani suit. Embossing usually looks well on darker shades of colors like black, red, blue and brown. A heavy embroidered attire for the festive season is the first thing you need to look majestic.
Price as per your budget -
This is yet another essential factor to consider while choosing pathani suits. These days, there is hardly any dearth for these exclusive wear as these Pathani suits can easily be bought from online stores at reasonable prices. We,at Oil Apparels offer a huge range of distinctive suits with different colors, sizes, styles and embellishments. There are suits at varying price ranges suited for all types of body frames that fit your budget well!
Fabric of the Pathani Suit -
there is an unfathomable fusion of colors and fabrics when it comes to ethnic Pathani Suits. Silk suits are considered to be elegant and chic choices. It is chosen and worn on important occasions. Light fabrics such as satin and silk tend to enhance the appearance of men with good body frames. However, men with a lean frame generally choose to wear heavy suits with rich embellishments such as stone studs, zardosi, sequins and so forth.
Apart from these above mentioned major factors, there are some other important aspects to consider. It is equally important to choose the right texture and the quality of the suits before buying. In addition to simple varieties, there are other designer pathani suits which can be custom tailored according to the likes of the wearer. We, at Olib Apparels, also offer custom tailored suits at affordable prices.